Cat Hammocks
Our cat hammocks provide a vertical space for your cat to perch, hang out, and watch all the action. The elevated modern design ensures your cat feels safe and protected, allowing them to enjoy cat naps like never before!
Wall Steps
Your cats will love their newfound freedom! Each step provides your cat with not only an awesome perch but also the purrfect scratching post. As a result, it promotes good health and discourages them from scratching your furniture.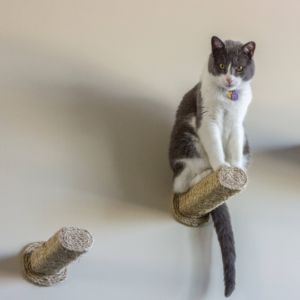 Wall Scratchers
Sturdy sisal covered purrfect scratching post. Promotes good health and essential for good grooming. Discourages them from scratching your furniture. You choose where to place them on the wall, depending on the size of your cat.
PURRkor Extreme
This is PURRkor Extreme! Your cat will love running or climbing up the vertical scratchers and jumping between the sisal steps to simply perch or to get closer to the cozy floating hammock where they can rest, relax and recharge.